Published: 12 October 2015

12 October 2015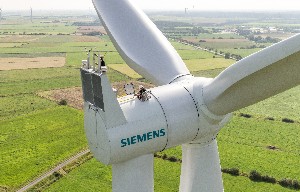 Siemens has received an order for the supply, installation and commissioning of 54 direct drive wind turbines. The SWT-3.2-101 turbines will add another 172.8MW to SSE's Clyde wind farm in South Lanarkshire, Scotland.
Siemens will also be providing long-term service for the new Clyde Extension project. The Clyde wind farm already has 152 operational turbines. All of the existing turbines are Siemens 2.3MW units, commissioned in 2011 and 2012. The two-year construction effort commenced in July 2015 and will support an estimated 500 local jobs through direct employment and the supply chain. The 54 turbines are scheduled for delivery and installation starting in June 2016. The Clyde Extension will be completed in June 2017.