Published: 25 May 2021

25 May 2021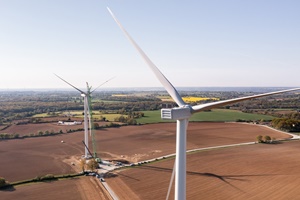 RP Global has announced the sale of its most recent project, the 12MW wind farm "Le Champvoisin", to the German independent power producer (IPP) clearvise.
The deal follows the recent closing of the € 24 million project financing and includes a 20-year PPA from the French government, one of the last to be awarded. Construction of the wind farm is nearing completion and commercial operation is set to start in August. Le Champvoisin wind farm in Fomperron, in the Deux-Sevres region, France, is the first project for which RP Global offered a 'crowdfunding campaign' on the French platform Lendosphere. Through the issuance of these mini-bonds, residents of the communities adjacent to the wind park were offered the opportunity to actively invest and benefit from the project being installed in their vicinity. Annual interest rates of between six and seven percent were offered to residents, depending on their proximity to the wind park, and 247 private lenders participated in the campaign. RP Global will continue to provide operation and maintenance services for the wind farm under a service agreement with clearvise.