Published: 17 November 2020

17 November 2020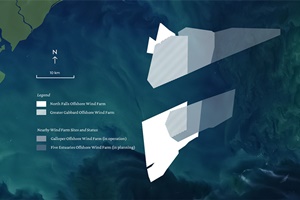 Royal HaskoningDHV will be supporting North Falls Offshore Wind Farm, a joint venture between SSE Renewables and RWE Renewables. Royal HaskoningDHV has been appointed to support the Environmental Impact Assessment (EIA) and Habitats Regulations Assessment (HRA) process.
As part of the process, Royal HaskoningDHV will work closely with North Falls Offshore Wind and their wider team to develop management and mitigation measures to ensure the successful and sustainable development of North Falls. North Falls Offshore Wind Farm is being developed on a site more than 20 kilometres off the UK coast in the southern North Sea and covers a total area of 150 km². It is an extension project to the adjacent 504 megawatt Greater Gabbard Offshore Wind Farm, opened in 2013.