Published: 10 August 2017

10 August 2017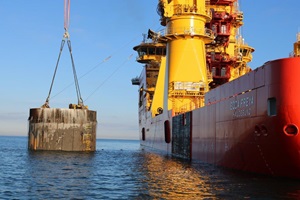 Peterhead Port Authority is set to support the start of offshore construction work for the European Offshore Wind Deployment Centre (EOWDC) after signing an agreement to harbour the suction bucket jacket foundations for the 11-turbine scheme. The contract will see the port moor a floating crane, with a maximum lifting capacity of 5,000 tonnes, and up to six barges that will transport the 11 foundations - which weighs around 1,800 tonnes and is about 77 metres high.
Peterhead Port Authority will also accommodate two supporting offshore construction vessels while a project site office will be established at the harbour for the installation operations which are due to start later this year. Vattenfall, is developing the EOWDC, off Aberdeen Bay. The contract for Peterhead Port Authority was awarded by Boskalis which is Vattenfall's key supplier for the offshore construction and installation including the foundations and cabling. The foundations will be transported to Peterhead for mooring via the six barge vessels, five of which will carry two foundations while the sixth will transport the final one. The installation vessel will be moored alongside the barges for heavy-lift operations. When offshore work starts, more than half the foundations will be installed under the water within the seabed.Peterhead Port is to support the installation operations for at least four months with the offshore work expected to take around four to six weeks.