Published: 18 October 2018

18 October 2018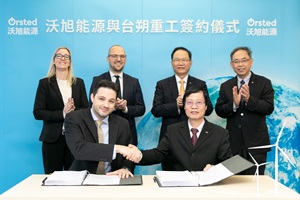 Ørsted has signed a contract with Formosa Heavy Industries for the manufacture of wind turbine foundation pin piles for the Greater Changhua South West and South East offshore wind projects. The contract amount is approximately NT$2 billion.
900MW will be built in 2021 using an Ørsted designed Jacket-type underwater foundation. Each foundation will be supported by three pin-piles that are driven into the seabed, forming a foundation structure to sustain the weight of the tower and wind turbine system. These pin-piles are mainly composed of steel plates. Each of them will be approximately 90 meters long, 4 meters in diameter and will weigh over 400 tons. Formosa Heavy Industries intends to use the existing equipment of the Mai Liao Factory in Yunlin County. They also plan to invest in new hardware such as, a plate rolling machine, a milling machine, a sandblasting machine, a submerged arc welding machine and facility. The local Mai Liao Harbour will be used for laydown and shipping of the pin-piles to their final location at Greater Changhua Offshore Wind Farm.