Published: 10 June 2020

10 June 2020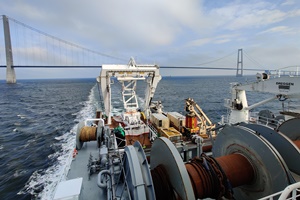 Global Offshore has completed their first phase of work at Vattenfall's Danish Kriegers Flak site utilising the new PLP240 asset for boulder clearance and pre-cut trenching.
Mobilised on the Havila Jupiter, the PLP240 began boulder clearance on the site in April following testing on a directly comparable set of seabed conditions close by. The multi-function pre-lay plough was trialled in all modes: boulder clearance, pre-cut, simultaneous clearance and cutting, multi-pass and backfill. The PLP240 is commissioned from and designed in collaboration with Osbit.
Overall 72 routes have been completed, totalling approximately 158 km, supported by the Global Symphony and Normand Clipper undertaking boulder picking in the densely populated boulder fields. The PLP240 has achieved target trench depths in the majority of up to 1.7 metres in a large portion of the site.
With route preparation works complete, the Global Offshore team are now focused on the next phase of the project, cable lay. This will be followed up with cable burial utilising a combination of jetting with the Q1400 trencher, and in the areas of harder, more consolidated soil, the PLP240 in backfill mode to provide necessary cover and protection.