Published: 26 May 2020

26 May 2020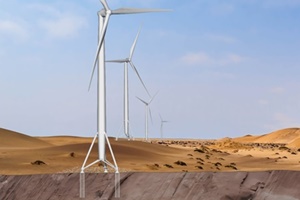 Nabrawind has received an order for the supply of four towers for a wind farm located in Namibia. The wind farm is located in the south west of Namibia and will be developed by Innovent. Construction of the wind farm will begin in the second half of 2020.
Nabrawind will supply a tower with the Nabralift transition piece as the foundation. The self-erecting Nabralift tower is has lift capacity of more than 200 meters. The transition piece and its frame structure is integrated with a standard tubular tower. The transition piece distributes the load through three points directly anchored to the rock subsoil. Nabrawind involvement in this Namibian project includes the design and supply of the tower and the foundation, as well as the logistics to the Namibian coast.