Published: 02 October 2018

02 October 2018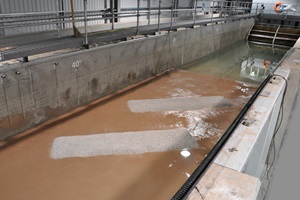 HR Wallingford has been helping Ørsted to build stable cable crossings for their new Walney Extension windfarm, on what is becoming an increasingly congested seabed. The most recently constructed Round 3 UK wind farms are experiencing a new phenomenon: a congested seabed with a complex network of existing cables and pipelines that new ones must cross in order to make it to land.
At Walney, the four existing wind farms in Morecambe Bay, along with gas pipelines and cables, meant that there were eight obstacles in the way. To get over these obstacles, it was necessary to bring the buried cables up out of the seabed, over the existing asset, and then rebury them, normally securing the exposed cabling with a cover of rock - a rock berm. However, rock berms can sometimes be problematic, causing large holes to be scoured in to the seabed that can extend hundreds of metres from the structure. This scour can expose the existing assets and can lead to expensive repair bills. HR Wallingford carried out scour tests for Ørsted in its Fast Flow Facility, which is able to re-create realistic marine conditions in the laboratory. An assessment of the as-built footprints relative to the design was also conducted.