Published: 13 May 2021

13 May 2021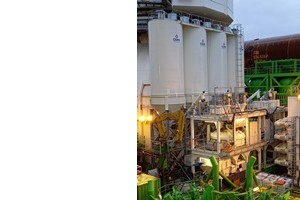 Large Diameter Drilling (LDD), a marine drilling and grouting contractor, has signed a contract to deliver grouting services for Deme Offshore's installation of foundations at the Saint-Nazaire wind farm off the coast of the Guérande Peninsula, France.
LDD will provide personnel and services for grouting the drilled monopiles in position and the transition pieces to monopile connections using equipment from its Core Grouting branded service. The scope involves grouting monopiles into drilled rock sockets using a high-strength grout followed by grouting the transition pieces to the monopiles using an ultra-high-strength grout. To support these operations, LDD has developed bespoke grout mixing and pumping equipment to deliver mixed grout to the drilled rock sockets at a rate of 100 m3/h. The equipment is designed to operate primarily using bulk grout supplied from large material silos, which are also being fabricated for this project.