Published: 30 September 2022

30 September 2022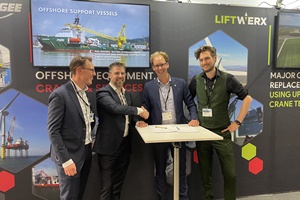 KenzFigee has signed a contract with LiftWerx for delivery of three up-tower cranes. The order consists of three up-tower cranes, comprising of a TeleHook, a Heli-Hook and a GenHook crane, able to perform generator and gearbox exchanges on a wide range of wind turbines, both offshore and onshore.
These zero-emission-cranes, fully-powered by wind turbine backfeed power, will be added to LiftWerx's European fleet of up-tower cranes for turbine repairs in the 2MW to 10MW range. This new crane package offers a lifting capacity of 30 tonnes, and is suitable for fixed-to-fixed lifting applications on offshore wind turbines up to 10MW.