Published: 25 February 2022

25 February 2022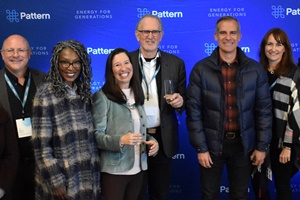 Pattern Energy has announced the Grand Opening of its Western Spirit Wind power facilities. Western Spirit Wind is comprised of four wind power projects located in Guadalupe, Lincoln, and Torrance Counties in central New Mexico, totalling more than 1,050MW.
Western Spirit Wind will provide energy to California and New Mexico through long-term power purchase agreements with the Los Angeles Department of Water and Power, San José Clean Energy, East Bay Community Energy, California Choice Energy Authority and member cities, and international energy company Uniper Global Commodities, which provides power to local New Mexicans. The four wind power facilities that comprise Western Spirit Wind utilize a total of 377 GE wind turbines ranging from 2.3 to 2.8 MW in size. The GE turbines utilise various tower heights to optimise the wind capture at each facility. Blattner Energy was the EPC Contractor for the four wind facilities.
The Western Spirit Transmission line, which enabled the suite of Western Spirit Wind projects to be connected to the grid, was developed jointly by Pattern Energy and the New Mexico Renewable Energy Transmission Authority (RETA). The 155-mile 345 kV transmission line, completed in December, is delivering wind power from Western Spirit Wind in central New Mexico to the electric grid managed by Public Service Company of New Mexico (PNM) near Albuquerque. PNM now owns and will operate the transmission line. The transmission line was constructed by EC Source, a MasTec Company.