Published: 20 September 2016

20 September 2016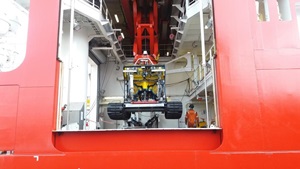 A development by Fugro for its work class remotely operated vehicles (ROVs) has been utilised in cable lay touchdown monitoring operations at the Rampion Offshore Wind Farm. A new track base unit, fitted to its FCV ROV, has been introduced to ensure accurate cable positioning during cable lay operations in strong currents.
The new track base unit ensures the continuation of operations in strong currents by enabling the ROV to run along the seabed instead of flying through the water. The unit is fitted to the existing ROV frame but can be detached easily if required. It was developed following another project for E.ON at the Humber Gateway Offshore Wind Farm in 2015, where Fugro introduced a compact custom-made cable lay spread that included new 3D sonar technology to supplement ROV support and provide precise monitoring of cable touchdown. During this project in the North Sea Fugro experienced currents as high as 3.5 knots.