Published: 22 November 2016

22 November 2016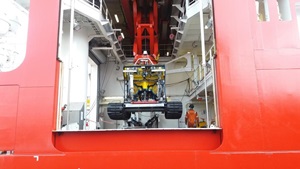 Fugro has completed phase one of cable laying operations on schedule at the Rampion Offshore Wind Farm, as the programme takes a break over winter. The installation of 60 cables was completed at the end of October – three more than the 57 cables originally planned.
Subsea construction vessel Fugro Symphony commenced site operations in August, having transported some 75 kilometres of cable to the Rampion site, off the UK's Sussex coast, on its 2000t carousel. Sister vessel Fugro Saltire completed cable burial in November using Fugro's Q1400 subsea trenching system. Both vessels will return next spring, complete with Fugro's full cable installation equipment spread, to install the remaining 62 cables in phase two. Completion is expected by summer 2017.