Published: 07 July 2016

07 July 2016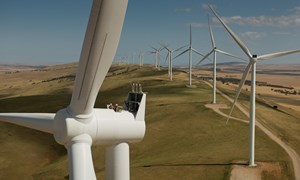 The 100MW Hornsdale wind farm is being developed by French renewable energy producer Neoen and built by Siemens Australia. Seven of the 32 turbines in Phase 1 of the farm in the Mid North of South Australia were switched on to the grid.
The remainder of the Phase 1 turbines are expected to come on line in the coming months. Hornsdale was awarded a contract to deliver 100MW to the Australian Capital Territory Government (ACT) in February 2015 as part of the first reverse auction, enabling Phase 1 to go ahead. In December it secured a second 20-year contract with the ACT Government, which will allow Phase 2 of the project, a further 100MW, to go ahead possibly next year. The farm has a potential output of 270MW with the remaining capacity expected to come in a yet to be confirmed Phase 3.