Published: 10 December 2019

10 December 2019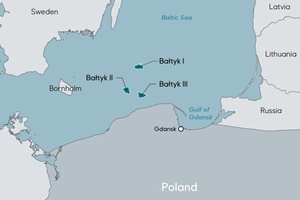 On 10 December Equinor has completed the acquisition of a 50 % interest in the offshore wind development project Baltyk I in Poland from Polenergia. The company now has an interest in all three Baltyk offshore wind development projects (MFW Baltyk III, MFW Baltyk II i MFW Baltyk I.).
The Bałtyk I offshore location license allows for a development of a wind farm with a capacity up to 1560MW of which Equinor will hold 50%. Equinor will be the manager for the construction preparation and the potential construction and operational phases. It was in 2018 that Equinor acquired a 50 % interest in the offshore wind development projects Bałtyk II and Bałtyk III which have a combined planned capacity of 1,440MW. Later that year, Equinor decided to exercise an option to acquire a 50 % interest in the Bałtyk I offshore wind development project, and this transaction is now concluded. The wind farm area is in the Baltic Sea in water depths of 25-35 meters, approximately 80 kilometers from the port of Łeba. Equinor and Polenergia have a 50/50 joint venture and are working together to mature the Baltyk projects towards construction.