Published: 06 December 2019

06 December 2019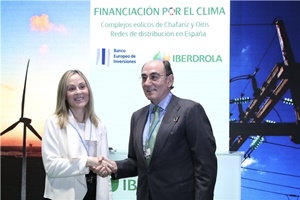 The EIB and Iberdrola have announced two new agreements to promote climate action by investing in renewable energy projects and electricity distribution networks. To do so, the Vice-President of the EU bank Emma Navarro and the President of Iberdrola Ignacio Galán agreed two loans for a total of € 690 million.
Of the € 690 million total, € 250 million will go to financing the construction of 15 wind farms to be developed in the country by Neoenergia, the Iberdrola subsidiary in Brazil. These new facilities will be located in three states in the north east: Paraíba, Bahía and Piauí. Once operational, they will have a total installed power of 520 MW. The investments in these new wind farms will be made over a five-year period and will enable the creation of 2,300 jobs.
The EU bank and Iberdrola have also joined forces to develop digitalisation of infrastructure essential to the decarbonisation of the economy: the electricity distribution networks. To do so, they have agreed a € 440 million loan to finance new investments in Spain for infrastructure to help improve the reliability of the network and the quality of supply.