Published: 26 January 2017

26 January 2017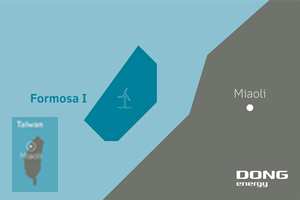 DONG Energy has signed an agreement to acquire a 35% ownership interest in the Taiwanese offshore wind project Formosa I from local developer Swancor Renewable. The new owners of Formosa I are DONG Energy (35%), Macquarie Capital (50%), and Swancor Industries (15%).
While DONG Energy will provide advisory services, Swancor Renewable will continue to lead the project through site development and construction. Macquarie Capital will work closely with DONG Energy and Swancor Renewable to complete the development and construction of the project. Apart from its engagement in Formosa I, DONG Energy is currently developing four offshore wind sites in the Changhua area. The four projects are expected to have a total capacity of at least 2GW and are due to start construction in 2021-2024.