Published: 10 March 2021

10 March 2021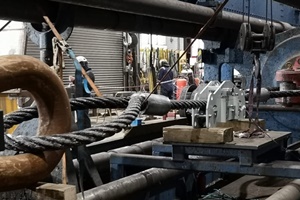 Dynamic Load Monitoring (DLM) has provided eight bespoke Running Line Monitors (RLMs) for Jan de Nul's 236.8m-long Les Alizés, a 5,000t capacity floating installation crane vessel, currently being built in China.
DLM delivered the RLMs to NOV's BLM division, which designs and manufactures ship and offshore equipment products. The solution is for an eight-point mooring system, that will keep the vessel locked and stable during operations. The original performance criteria was 0-2750 kN, but that was later changed to 3,500kN (approx. 350t). DLM chose a customised solution, based on its standard 200t-rated RLM, adapted to a larger rope diameter and increased safe working load (SWL) and minimum breaking load (MBL) requirements. The equipment is powder-coated grey to the clients specific RAL reference, suitable for the marine environment with a working life in excess of 20 years. After sales support will also be provided as part of the contract. Jan de Nul's Les Alizés will be completed in 2022.