Published: 23 February 2021

23 February 2021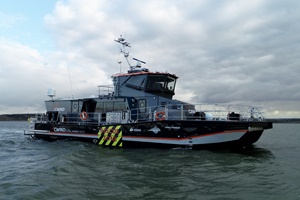 CWind has launched the hybrid powered Surface Effect Ship (SES), the CWind Pioneer. The CWind Pioneer features a hybrid diesel and battery electric power system which enables the vessel to operate purely on battery power while in harbour or at standby in a wind farm.
The CWind Pioneer can operate at speeds exceeding 43.5kts and in sea states in excess of 1.8m Hs. The vessel has the capacity for 24 passengers. The Hybrid SES crew transfer vessel was developed in partnership with ESNA, a ship design company based in Kristiansand, Norway.