Published: 08 September 2021

08 September 2021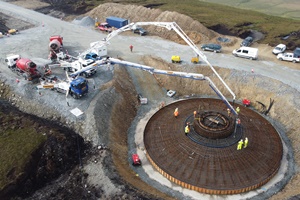 Viking Energy Wind Farm has passed a new milestone with the pouring of concrete on the first wind turbine base. Eight ready-mix lorries carried the concrete to the turbine site from two batching plants set up nearby, each of which can mix 50 cubic metres an hour.
Once complete, Viking will will provide around 440MW of power. Once the concrete has cured, the base is backfilled with materials excavated from the site, leaving only the centre ring showing, ready for the turbine tower to be bolted on. The Vestas turbines will arrive on site for erection in early 2023. Viking Energy Wind Farm is on course to go into renewable energy production in late 2024.