Published: 04 August 2016

04 August 2016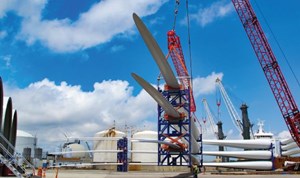 Installation of the Block Island Wind Farm's turbine towers, blades and nacelles is scheduled to begin in early August at the project site, roughly three miles off the coast of Block Island, Rhode Island. All 15 turbine tower sections and 15 blades, supplied by GE Renewable Energy and its blade manufacturer LM Wind Power, have been delivered to ProvPort, in Providence.
GE has completed manufacturing of all turbine components. The five nacelles began their journey across the Atlantic from the manufacturing facility in St. Nazaire, France, to the project site on July 15. The Big Max cable lay vessel completed installation of all cables for the project. In addition, National Grid completed the installation of the sea2shore submarine cable connection between Block Island and mainland Rhode Island in June. The final construction phase – offshore turbine installation will take roughly one month and is expected to finish by early September. GE technicians will commission the wind turbines, a process that will start during offshore installation and take several months. The wind farm will be in commercial operations once commissioning is complete.