Published: 28 October 2016

28 October 2016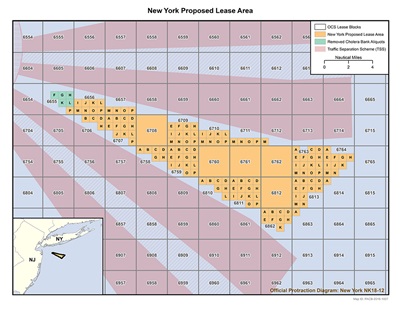 The US Interior Department has announced that 79,350 acres offshore New York will be offered in a December 15 commercial wind lease sale. The New York Wind Energy Area starts approximately 11.5 nautical miles from Jones Beach, NY.
After reviewing comments received on the Environmental Assessment, BOEM removed about 1,780 acres from the lease area due to environmental concerns regarding a seafloor feature known as the Cholera Bank. As a result of this removal, the revised lease area will be approximately two percent smaller than the lease area considered in the Proposed Sale Notice. In response to concerns raised by commercial fishing interests, BOEM also has included a lease requirement for the lessee to develop a publicly available Fisheries Communications Plan and work with a Fisheries Liaison to facilitate communication with the fishing industry. The announcement also identifies 14 companies that BOEM has deemed legally, technically and financially qualified to participate in the upcoming lease sale.