Published: 06 August 2019

06 August 2019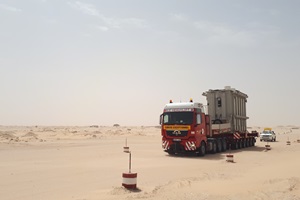 Mauritania's lengthy shoreline has considerable wind power potential and so the country is looking to increase its ratio of renewable energy. This has led to the commissioning of the € 122 million Boulenouar Wind Power Project. ALE mobilised their transport services to complete the transportation and installation of two electrical transformers for a 100MW wind farm project near Nouadhibou, Mauritania.
The electrical transformers, weighing 95t each, crossed over 100km. The route began at the Port of Nouadhibou and finished at a transformation centre. Once on site, the transformers were unloaded using heavy duty lifting equipment and discharged directly onto rails embedded in concrete. This enabled the transformers to then be rolled on their own wheels to their final position.
ALE utilised 6 axle lines of conventional trailer with a 250 tonnes capacity tractor, then 90 tonnes capacity hydraulic jacks for the unloading. The new wind farm will be the second in Mauritania and will consist of 39 wind turbines and construction is expected to finish in 2019.