Published: 10 August 2015

10 August 2015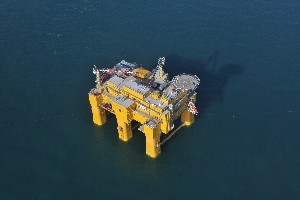 The 320-kilovolt converter station, housed on an offshore platform, has a 916MW power transmission capacity. The offshore converter station is part of the DolWin2 project which will be operated by transmission system operator TenneT and will connect offshore wind farms in the North Sea's DolWin cluster with the German grid.
The main function of the station will be to convert the electricity generated by the offshore wind farms from alternating current (AC) into high-voltage direct current (HVDC) for efficient and reliable transmission to the mainland. The complete platform including substructure weighs around 23,000 tons and is around 100 meters long, 70 meters wide and 100 meters tall. It was transported last year from Dubai, where it was built, to Aibel's shipyard in Norway. Here, the platform was outfitted and sailed away to arrive after a short transportation phase of four days at its final destination in the DolWin cluster, 45 kilometers off the German coast. DolWin beta utilizes an innovative self-installing gravity-based structure (GBS) concept, whereby the platform is slowly ballasted down to the seabed by filling the six columns with water, which will in the coming weeks be completely replaced by gravel to permanently secure the platform.