Published: 02 February 2017

02 February 2017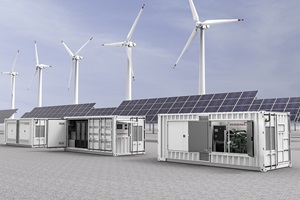 The mining industry can significantly reduce its diesel fuel consumption when developing new mineral deposits by using microgrids with renewable energy sources. This is the conclusion of a study on "Mobile Solar and Wind Diesel Hybrid Solutions for Mineral Exploration". CrossPower, developed by Pfisterer, is a hybrid and mobile energy system for setting up microgrids combining conventional and renewable energy sources.
CrossPower combines hybrid power generation with an intelligent management system. This guarantees a reliable power supply even on a cloudy or windless day. Lithium-ion batteries store the renewable energy, which is automatically prioritised by the management system. Diesel generators charge the batteries only as required, and therefore operate in their optimum output range. This cuts fuel consumption by more than 50 percent. CrossPower is available in different sizes. These range from mobile systems for exploration teams to the stationary CrossPower Large Grid (LG) with a power of 5,000 kW and more, which even enables entire mines to be powered. The system is designed for transportation in standard containers.