Published: 24 February 2016

24 February 2016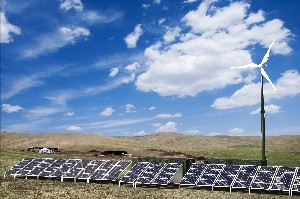 The first CrossPower system was handed over to Lithuania at the beginning of February as part of the "Smart Energy" energy efficiency program sponsored by the NATO Energy Security Centre of Excellence. The system has a rated output of approximately 150KW (or up to 2,500kWh per day), a storage capacity of 100kWh and comprises a control unit, high-performance batteries, a wind turbine and solar panels as well as two diesel generators.
All components can be transported in two 20' ISO containers for mobile use. A stable grid is realised despite fluctuating power sources by integrating lithium-ion technology together with photovoltaic systems, wind power turbines and diesel generators. Clever management of the interface points between the generators and consumers is also key to ensuring a reliable power supply. The intelligent control system prioritises renewable energy sources according to their availability, whereas the diesel generators cut in only as required to recharge the batteries and always operate at their optimum output range. This approach can reduce fuel consumption by up to 50 per cent. The CrossPower system from Pfisterer can be used as a permanent or mobile installation and offers scaled power outputs ranging from 25 kW to 1,000 kW.
Related Articles
Northern Power Systems (NPS) has announced financial results for its second quarter ended June 30, 2015. Revenue for the second quarter of fiscal year 2015 was

According to two reports released by the Energy Department, the U.S. wind energy industry continued growing at an impressive rate in 2014. According to the 2014