Published: 24 February 2016

24 February 2016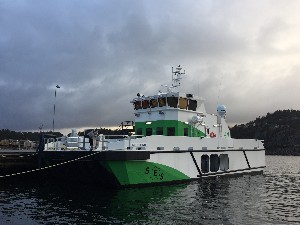 The WaveCraft Surface Effect Ship Umoe Firmus arrived in the river harbour at the port of Great Yarmouth in Norfolk on 24 February. Following extensive upgrades and testing it was handed over to the Tidal Transit crew.
Statkraft has chartered Umoe Firmus to support its O&M operations at the Sheringham Shoal Offshore Wind Farm. The WaveCraft Offshore Service Vessel is manufactured by Umoe Mandal in Norway. The WaveCraft uses an air cushion between its catamaran hulls to lift 80% of the vessel out of the water. The small draught that this creates provides the vessel with easy access to ports. It also enables the vessel to travel at high speeds (40+ knots) whilst maintaining a low fuel consumption resulting in a range of more than 700 nautical miles. Managing the pressure of the air cushion according to wave height allows for smoother voyages and provides a greatly increased opportunity for access to turbines - up to wave heights of 2.5 metres, or even higher in a swell.