Published: 25 May 2022

25 May 2022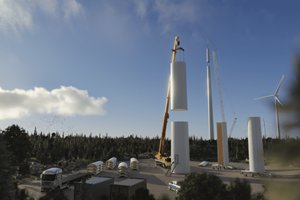 Stora Enso and wood technology company Modvion are partnering to establish wood as the material of choice for wind turbine towers. The collaboration's purpose is to demonstrate the vast possibilities in using wood in demanding constructions.
Modvion builds wind turbine towers with laminated veneer lumber (LVL), which proportionate to its weight is stronger than steel. Stora Enso is a supplier of mass timber products, including LVL. The towers are built in lightweight modules, enabling taller towers and easy transportation on public roads. The wood used for constructions such as wind turbine towers can be reused in new wood-based products which provides further long-term climate benefits.