Published: 21 January 2020

21 January 2020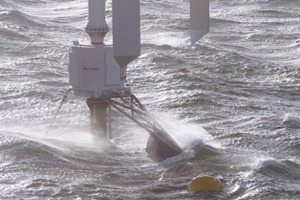 SeaTwirl will be granted a patent for its divisible offshore wind turbine by the European Patent Office (EPO). SeaTwirl has already been granted the same patent in Sweden, USA and China.
The patent protects a solution where the wind turbine is divisible above and below the house that holds the generator and bearing, which means that the entire generator and bearing housing can be replaced just above the water surface by boat. It reduces costs for both installation and maintenance and minimizes downtime.
SeaTwirl is working strategically to build a broad patent portfolio. The corresponding patent was approved in Sweden in 2017 and in the US and China in 2019. The notice from the European Patent Office is dependent on SeaTwirl paying the required fees.
Related Articles
A pan-European consortium led by the French wind company ASAH LM has been set up to develop the Spinfloat, a 6MW floating Vertical Axis Wind Turbine (VAWT) with pitched blades, mounted on GustoMSC's s ...Windtech International - Windtech International is the worldwide information magazine for the wind energy industry. It provides the ideal forum for the promotion and explanation of new products, techniques and applications. This trusted and well-respected source of information is read regularly by an increasing readership

Ten partners from six European countries gathered in Paris in June to kick-off a research project on offshore wind energy, featuring a world premiere: The INFLOW (INdustrialization setup of a FLoating ...Windtech International - Windtech International is the worldwide information magazine for the wind energy industry. It provides the ideal forum for the promotion and explanation of new products, techniques and applications. This trusted and well-respected source of information is read regularly by an increasing readership

Sandia National Laboratories' wind energy researchers are re-evaluating vertical axis wind turbines (VAWTs) to help solve some of the problems of generating energy from offshore breezes. VAWTs offer ...Windtech International - Windtech International is the worldwide information magazine for the wind energy industry. It provides the ideal forum for the promotion and explanation of new products, techniques and applications. This trusted and well-respected source of information is read regularly by an increasing readership

Sauer Energy, a developer of home and enterprise scale vertical axis wind turbine (VAWT) systems, announces that VEC Technology, LLC, has been chosen to jointly manufacture its WindCharger model for t ...Windtech International - Windtech International is the worldwide information magazine for the wind energy industry. It provides the ideal forum for the promotion and explanation of new products, techniques and applications. This trusted and well-respected source of information is read regularly by an increasing readership

Sauer Energy, Inc. (SEI), a developer of home and enterprise scale vertical axis wind turbine (VAWT) systems, has announced that it has scheduled the Sauer wind turbine for formal wind tunnel testing ...Windtech International - Windtech International is the worldwide information magazine for the wind energy industry. It provides the ideal forum for the promotion and explanation of new products, techniques and applications. This trusted and well-respected source of information is read regularly by an increasing readership

Sauer Energy, Inc., a developer and producer of home and enterprise scale vertical axis wind turbine (VAWT) systems, has announced that the United States Patent and Trademark Office (USPTO) has issued ...Windtech International - Windtech International is the worldwide information magazine for the wind energy industry. It provides the ideal forum for the promotion and explanation of new products, techniques and applications. This trusted and well-respected source of information is read regularly by an increasing readership

This article takes a brief look at the technical reasons why VAWT deserves closer scrutiny.

American Security Resources Corporation (ARSC) has announced that it has executed Letters of Intent to acquire majority control of Mag-Wind Company LLC. Mag-Wind?holds exclusive world wide rights t ...Windtech International - Windtech International is the worldwide information magazine for the wind energy industry. It provides the ideal forum for the promotion and explanation of new products, techniques and applications. This trusted and well-respected source of information is read regularly by an increasing readership