Published: 29 June 2023

29 June 2023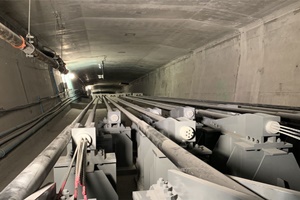 For the first time, Rute Foundation performed an inspection of the interior of a foundation structure using a remote-controlled drone vehicle. The Rute Foundation at Palmers Creek Wind Farm in Granite Falls, MN is a hollow foundation based on precast segmental bridge technology, which allows inspections inside the structure.
Rute's girders are 12-feet below ground and stretch 30 feet in 4 cardinal directions and support a 295-ft tall GE tower. The foundation is a post-tensioned assembly of 12 precast concrete pieces. The two previous biennial inspections of this Rute model 32BX were performed by human confined space entry into the 'girder cells'. This year the inspection was performed by a remote control vehicle. The components were off the shelf equipment, including a remote control toy dune buggy, with a retrieval tether, a battery powered LED light, and Akaso EK7000 camera. The camera sends a video feed to the operator who sits at the 'basement hatch' of the GE turbine, and steers the drone via the video feed to a phone. This inspection took 1.5 hours to complete and no cracks or spalling in the girder walls was observed, indicating that the structure is performing properly. Future inspections with custom drone equipment should take less than 30 minutes.