Published: 09 June 2017

09 June 2017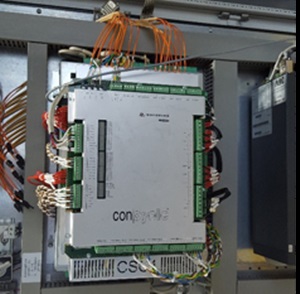 Deutsche Windtechnik X-Service is now offering upgrades with CSC4 control units for all Senvion MM series wind turbine systems that were manufactured in 2007 or later. The converter manufacturer Woodward has developed the controller upgrade CSC4 for wind turbines to meet current demands of grid operators as well as to prevent problems with spare parts availability.
The reason for this is that some of the approximately 400 components are no longer manufactured. Woodward has reduced the number of components to a minimum in the new generation of devices. In addition, the new control units have higher resolutions than their predecessors and their data recorders record more information, both of which further improve error analysis. The SystemTool now provides simple and convenient direct data access. The control units can be replaced on-site by Deutsche Windtechnik teams that have been trained by Woodward. Deutsche Windtechnik is looking to expand its range of services to include the complete MD series in the medium term.