Published: 18 October 2017

18 October 2017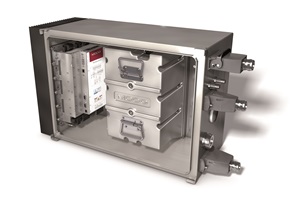 Moog has received a safety certification from TÜV Rheinland for the new Moog Pitch Servo Drive 3. The feathering safety function supplied by the Moog Pitch System 3 Servo Drive alters a wind turbine's blade pitch at the rotor hub to minimize the torque applied by the wind, avoiding excessive speed of the turbine. As a result, the pitch servo drive is classified as a safety component.
Along with certifying the safety of its new servo drive, Moog improved the architecture of Pitch System 3 to meet IEC 61508 and ISO 13849, standards governing wind turbine safety. First, Moog's engineers provide a safety function referred to as Safe Feathering Run (SFR), which automatically moves and stops a turbine's blades in the feathering position. Second, Moog included a Safe Stop function called (STOP1) to arrest the motion of an individual blade during manual movement of the blades. The Safe Stop function meets the ISO 13849 standard that addresses the requirements that blades must not perform an unintended move when people are working inside the wind turbine's hub. Moog also asked lightning protection company DEHN to test Pitch System 3 (including its servo drive and interface module) inside a high voltage lab subjecting the system to multiple lightning strikes reaching more than 260,000 amps. Afterward, the system was still fully operational and performed a Safe Feathering Run.
Related Articles
Moog has announced the launch of its new AC Moog wind turbine pitch system. Adopting a compact modular architecture, the new system has distinct advantages in safety, reliability and an overall reduct ...Windtech International - Windtech International is the worldwide information magazine for the wind energy industry. It provides the ideal forum for the promotion and explanation of new products, techniques and applications. This trusted and well-respected source of information is read regularly by an increasing readership

Moog has launched its latest AC Moog Wind Turbine Pitch System. Moog set four goals when developing the new pitch systems and products: 1) Improve turbine reliability 2) Reduce the overall cost to the ...Windtech International - Windtech International is the worldwide information magazine for the wind energy industry. It provides the ideal forum for the promotion and explanation of new products, techniques and applications. This trusted and well-respected source of information is read regularly by an increasing readership

Moog Industrial Group has announced that the company has been awarded a contract to supply a test system to Narec (National Renewable Energy Centre) to evaluate and test wind turbine blades at their n ...Windtech International - Windtech International is the worldwide information magazine for the wind energy industry. It provides the ideal forum for the promotion and explanation of new products, techniques and applications. This trusted and well-respected source of information is read regularly by an increasing readership

Moog Inc. has completed the integration of the Insensys acquisition and will now market all of its offerings under the Moog brand. Insensys individual pitch control and rotor blade monitoring system ...Windtech International - Windtech International is the worldwide information magazine for the wind energy industry. It provides the ideal forum for the promotion and explanation of new products, techniques and applications. This trusted and well-respected source of information is read regularly by an increasing readership

After taking a 40 per cent ownership stake in privately held LTi REEnergy GmbH last June, Moog Inc. has acquired the remaining 60 per cent of the Germany-based company. Moog is acquiring two manufac ...Windtech International - Windtech International is the worldwide information magazine for the wind energy industry. It provides the ideal forum for the promotion and explanation of new products, techniques and applications. This trusted and well-respected source of information is read regularly by an increasing readership

Insensys Ltd. has announced that Moog Inc has acquired 70% of its stock for £11 million in cash. As part of the transaction, Moog has an option to purchase the remaining 30% within one year. Insensy ...Windtech International - Windtech International is the worldwide information magazine for the wind energy industry. It provides the ideal forum for the promotion and explanation of new products, techniques and applications. This trusted and well-respected source of information is read regularly by an increasing readership