Published: 15 February 2016

15 February 2016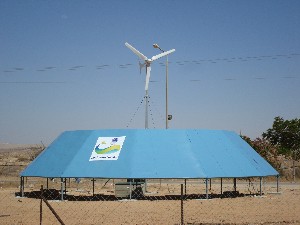 Leviathan Energy is raising US$1 million to certify their patented technology on a large scale. The technology is based on Computational Fluid Dynamics (CFD) and aerodynamics. By creating computer models of wind flow and each turbine, Leviathan can design deflectors far away from the turbine that make the wind higher velocity and more uniform in the plane of the blades.
Leviathan Wind Energizer is conducting simultaneous crowdfunding, one on Kickstarter for non-equity investors, and one on Fundable for equity investors with a minimum of US$5000. They are also approaching traditional investor groups. Dr. Farb developed the technology in Israel, where a prototype produced 156% more energy than the control turbine. According to Dr Farb the effect is greater in regions with lower wind speeds and the Wind Energizer expands the locations in the world where profitable wind farms can be built by lowering the cut-in speed.