Published: 17 November 2023

17 November 2023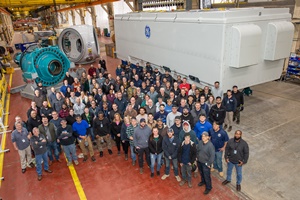 GE Vernova's Onshore Wind business has completed the first onshore wind turbine produced on its new wind manufacturing assembly line in Schenectady, NY, USA. The facility manufactures and assembles GE Vernova's 6.1-158 onshore wind turbine.
The expansion of the GE facility, which was first announced in
May 2023
, was enabled by the increase in market demand for renewable energy created by the passage of the Inflation Reduction Act (IRA). The IRA also provides tax credits for manufacturers who produce nacelle components in the USA and to projects that meet domestic content requirements, provisions that will support the $50 million investment GE made in the new facility. New York State has also agreed to provide up to $2.5 million though Empire State Development's Excelsior Jobs Program.
As the facility completes its ramp up, 200 employees will manufacture and assemble components for over 100 units of GE Vernova's 6MW onshore turbine next year alone. The new manufacturing assembly line is in the same building where GE Vernova continues to manufacture steam turbines and generators for its gas business, leveraging skillsets and learnings across businesses. The company assembles wind turbine components for its other onshore wind turbine, the 3MW platform, at a facility in Pensacola, Florida.