Published: 12 September 2022

12 September 2022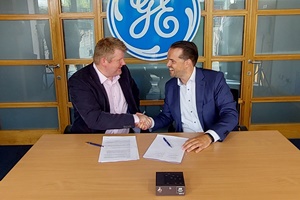 GE's Grid Solutions Monitoring & Diagnostics (GE) group and PhotonFirst have announced a strategic technology collaboration for the development of transformer monitoring solutions.
GE has selected PhotonFirst as it's preferred partner for development and supply of smart transformer monitoring systems. Fiber optical sensing based on integrated photonics offers new opportunities to monitor the performance of transformers in a scalable, low-cost, robust and intelligent way. Jointly, the parties have the ambition to develop greenfield and brownfield solutions, fully integrating with GE's asset monitoring software solutions.
Related Articles
DONG Energy has contracted SPT Offshore for the structural and geotechnical design of suction bucket foundations for potentially five transformer substations, namely Burbo Bank Extension, Race Bank an ...Windtech International - Windtech International is the worldwide information magazine for the wind energy industry. It provides the ideal forum for the promotion and explanation of new products, techniques and applications. This trusted and well-respected source of information is read regularly by an increasing readership

CG has announced the installation of its transformer substation at the Amrumbank West offshore wind farm. The renewable energy unit consists of eighty 3,6MW (288MW) wind turbines located 100 kilometre ...Windtech International - Windtech International is the worldwide information magazine for the wind energy industry. It provides the ideal forum for the promotion and explanation of new products, techniques and applications. This trusted and well-respected source of information is read regularly by an increasing readership