Published: 21 October 2013

21 October 2013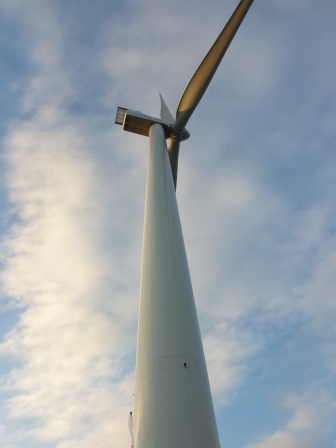 The first offshore G128-5.0MW prototype is inaugurated in Spain (at the Arinaga quay in Gran Canaria, Canary Islands) and was commissioned before summer.
Gamesa 5MW offshore platform is equipped with the technology Gamesa has proven and validated in its 4.5MW system, plus the know-how and experience acquired during the 4.5 MW's rollout. The first turbine of this new platform, G128-5.0 MW Offshore has a modular and redundant design. Gamesa in late 2012 obtained design certification for its offshore turbine from DNV. The turbine has a rotor diameter of 128 meters and a total height of 154 meters. The blades, manufactured at a Gamesa plant in Aoiz (Navarre), each span 62.5 meters and weigh 15 tonnes. The nacelle, manufactured at the Tauste (Zaragoza) factory, is 12.5 metres long, 4 metres tall and wide and weighs 72 tonnes. The nearly 90-metre tower was manufactured by Windar (a joint venture between Gamesa and Daniel Alonso). The commissioning of the turbine is a key step in its certification, foreseen in the upcoming months (1Q2014). Serial production of the G128-5.0 MW offshore is planned for 2014.