Published: 08 June 2016

08 June 2016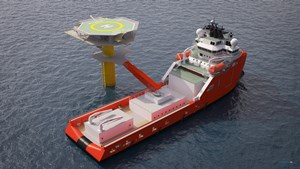 Fred. Olsen introduces an offshore wind specific heliport – a landing base fixed to the seabed within the turbines array – which forms part of a flexible modular concept known as Fred. Olsen Windbase.
The standalone offshore heliport concept will enable the offshore wind industry to seamlessly integrate helicopter use into the operations and maintenance of its next generation of far-from-shore offshore wind farms. A commissioned review of the offshore wind opportunities within the European market found that more than 64 future projects fit the criteria for Fred. Olsen Windbase - being larger than 400MW, with conditions that suit Universal Foundation's Mono Bucket and more than 90 minutes transit time in a modern crew transfer vessel.