Published: 01 September 2016

01 September 2016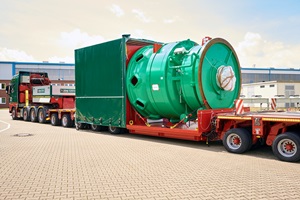 In close cooperation Adwen and Winergy have developed the gearbox for Adwen's AD 8-180 offshore wind turbine. The gearbox was designed exclusively for the AD 8-180 wind turbine.
The gearbox attains an input torque of close to 10,000 kNm. This 70 per cent increase in torque capacity was achieved with only a 20 per cent weight increase compared to other gearboxes used in offshore wind turbines larger than 6MW. The two-stage-planetary gearbox is directly connected to a medium-speed generator via a flange connection. Winergy has manufactured 4 gearboxes for Adwen with the goal of having them fully validated in three phases. The first one takes place at Winergy on a modified test bench which is being used for the back-to-back testing of two identical gearboxes with up to 125% over loading. The second phase takes place at Fraunhofer IWES Test Center's Dynamic Nacelle Testing Laboratory where the gearbox undergoes exhaustive tests in combination of full drivetrain and nacelle. The final phase is field tests with the installation of the AD 8-180 prototype in Bremerhaven, Germany.