Published: 16 September 2022

16 September 2022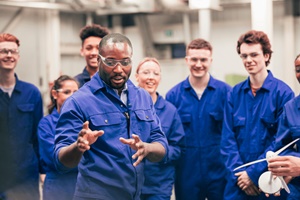 Wind energy employers are supporting the onboarding of of new technicians, with a trio of simplified routes and recommended training for entry level talent. Global Wind Organisation will launch the GWO Entry Level Wind Technician Framework on 4th October.
It contains three recommended profiles for talent looking to train to become entry level technicians in the wind industry, which are endorsed by GWO's members and will help new recruits to understand and choose their route into jobs within the areas of Pre-Assembly, Installation, or Operations & Maintenance (O&M). GWO's forecasts indicate 142,100 new recruits will be needed over the coming five-year period, adding up to a total of 568,800 technicians expected to work on the construction and installation of 557GW in new wind power capacity between 2022-2026, and to service the existing fleet. The additional workforce will be recruited from full time education or from people moving into wind from other sectors. Post-education recruits are identified as the largest potential group in scope for the three routes, but professionals from other sectors seeking to make the transition into wind are also considered a target group for the entry-level framework.