Published: 29 March 2023

29 March 2023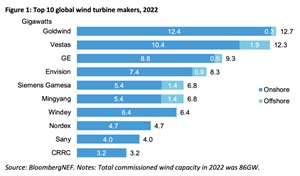 Wind capacity additions fell by 15% in 2022, following two years of record build, according to a new report by research company BloombergNEF (BNEF).
BNEF's 2022 Global Wind Turbine Market Shares report finds that developers brought online 86GW of wind turbines globally in 2022, after growth in installations stalled in the world's two largest markets, China and the US. The majority of new wind farms were added on land (89%), as commissioning of new offshore turbines fell to 9.1GW – down 46% compared with 2021.
Goldwind edged out Vestas to the top spot in the global wind turbine supplier ranking. The company supplied 12.7GW of projects last year, almost 90% of which were for its home market. Denmark-based Vestas commissioned 12.3GW overall in 2022, 3GW ahead of its US-based rival GE, which was in third place. Envision – another manufacturer based in China – finished fourth and Siemens Gamesa and Mingyang tied in fifth place.
Offshore wind installations fell steeply in 2022, the year after China's national feed-in premium for projects at sea expired. The drop was partly offset by strong activity in the UK, that commissioned over 3GW of offshore wind for the first time. European turbine makers seized the opportunity, as Vestas secured first place in the offshore wind ranking ahead of Chinese manufacturer Shanghai Electric, while Mingyang took third place.
BNEF identified 49GW of new wind capacity added in China last year, meaning the country accounted for more than half of global wind additions. Six turbine manufacturers based in China made the top 10 in BNEF's global ranking. While still the second largest market for new wind build, US additions fell by over 4GW in 2022.