Published: 29 April 2022

29 April 2022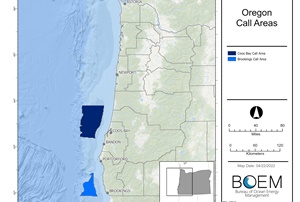 The Department of the Interior today announced that the Bureau of Ocean Energy Management (BOEM) will publish two separate Calls for Information and Nominations for possible leasing in areas that are determined to be suitable off the coast of Oregon and in the Central Atlantic.
Scheduled to publish in the Federal Register on April 29, each Call will initiate a separate comment period during which the public can submit relevant information on site conditions, marine resources, and ocean uses near or within the Call Areas. Concurrently, wind energy companies can nominate specific areas they would like to see offered for leasing.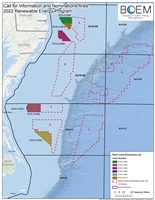 The Oregon Call, the first action of its type off the Oregon coast, requests information on two areas that together comprise approximately 1,158,400 acres. Both areas – the Coos Bay Call Area and the Brookings Call Area – begin about 12 nautical miles from shore at their closest points, off the coast of central and southern Oregon, respectively. Publication of this Call will initiate a 60-day public comment period, which will end at 11:59 p.m. ET on June 28.
BOEM is seeking information on six distinct areas in the Central Atlantic comprising almost 3.9 million acres. The closest point to the shore of any of the areas is approximately 20 nautical miles off the Central Atlantic coast. Publication of the Call in the Federal Register will initiate a 60-day public comment period ending at 11:59 p.m. ET on June 28.