Published: 29 October 2021

29 October 2021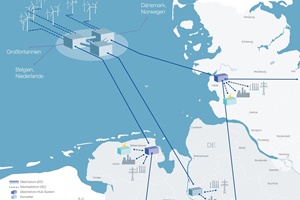 In order for the energy transition to succeed in Germany, the expansion of renewable energies must take place even faster and more comprehensively than before. In particular, the wind energy potential in the North Sea must be raised quickly and with a view to national and international networking.
Transmission system operator TenneT has unveiled its "Wind Power Booster Concept", which for the first time is foreseen to connect a 6 GW distribution hub in the North Sea via three direct current connections of 2 GW each to grid interconnectors in the Bremen area, in Lower Saxony as well as in Schleswig-Holstein. Direct connections to Denmark, the UK or the Netherlands will also be possible. This "LanWin hub" would allow 6GW of offshore wind to be connected to the grid as early as 2032, which is three years faster than foreseen in the current grid development plan.
"We support the concept of a new offshore wind grid hub in the North Sea developed by TenneT as we are committed to leveraging acceleration potential for the expansion of offshore wind and 'green' hydrogen in German waters," said WAB e.V. Managing Director Heike Winkler. "It is a matter of exploiting further potential for the long-term demand for climate-friendly electricity, even beyond the framework established today. Therefore, we are happy to engage in a dialogue with all stakeholders," Winkler added.