Published: 02 November 2015

02 November 2015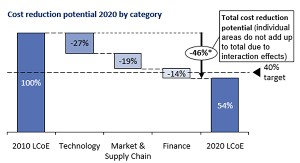 In the Netherlands the stakeholders committed to a 40% cost reduction for offshore wind. Today a report was released which demonstrates that this target is well within reach. The TKI Wind op Zee (Top consortium for Knowledge and Innovation Offshore Wind) commissioned PwC and DNV GL - with support from Ecofys - to conduct this study.
In the study, PwC and DNV GL conclude that the cost reduction target is feasible, as the assessed cost reduction potential of 46% by 2020, exceeds the target of 40%. The most significant contribution to cost reduction is made by technological innovation, and large steps have already been taken in this area such as innovation of the turbine and XL monopiles. Market and supply chain cost reduction options, such as improved collaboration and competition, as well as improvements in financing, play a vital role in achieving the target. Stable and committed policies are vital for these cost reduction options to materialise. Continued efforts of market parties as well as the government are needed to materialise this potential.