Published: 20 April 2018

20 April 2018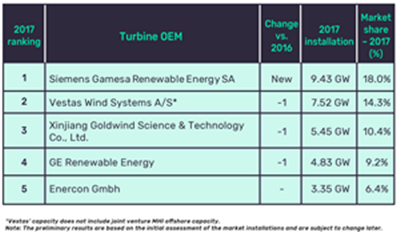 Siemens Gamesa Renewable Energy (SGRE) claimed the top spot for the wind turbine manufacturing sphere in 2017, managing to install 9.43GW and overtaking Vestas, which ranked second with 7.52GW of installations in 2017, according to GlobalData,.
SGRE gained ground with a 26.4% rise over the previous year's installations, while Vestas saw a 14% fall in installations in the same period. Goldwind came in third, followed by General Electric, both dropping one place compared to last year, and Enercon was fifth. GlobalData's research found that the top five turbine manufacturers accounted for nearly 58% of the total installed capacity in 2017, up almost 7% on the previous year. Vestas could not hold onto the top spot it attained last year against the synergies and vast geographic spread of SGRE. Xinjiang Goldwind Science & Technology took third place in the rankings. The company is the largest wind turbine generator manufacturer in China for the seventh consecutive year, while its global new installation market share reached 10.4% in 2017. Goldwind reported that it had accelerated innovation and actively expanded the overseas wind power market and offshore wind power market. The group made breakthroughs in six emerging markets, namely Uzbekistan, Turkey, Kazakhstan, the Philippines, Argentina, and Brazil.
Related Articles
China's renewable energy capacity increased from 27.8GW in 2001 to 183GW in 2013, and alternative sources are expected to account for more than 20% of the country's total electricity generation by 202 ...Windtech International - Windtech International is the worldwide information magazine for the wind energy industry. It provides the ideal forum for the promotion and explanation of new products, techniques and applications. This trusted and well-respected source of information is read regularly by an increasing readership

Despite an overall slump in installations in 2013, the global cumulative wind power capacity will more than double from 319.6 Gigawatts (GW) at the end of 2013 to 678.5 GW by 2020, says research and c ...Windtech International - Windtech International is the worldwide information magazine for the wind energy industry. It provides the ideal forum for the promotion and explanation of new products, techniques and applications. This trusted and well-respected source of information is read regularly by an increasing readership

Vestas Wind Systems has regained its position as the world-leading turbine installer, reaching first place in the top five companies in terms of total capacity installed, according to research and con ...Windtech International - Windtech International is the worldwide information magazine for the wind energy industry. It provides the ideal forum for the promotion and explanation of new products, techniques and applications. This trusted and well-respected source of information is read regularly by an increasing readership

The wind turbine towers market is expected to increase from US$ 12.1 billion in 2013 to US$ 19.3 billion by 2020, at a Compound Annual Growth Rate (CAGR) of 6.9%, says a new report from research and c ...Windtech International - Windtech International is the worldwide information magazine for the wind energy industry. It provides the ideal forum for the promotion and explanation of new products, techniques and applications. This trusted and well-respected source of information is read regularly by an increasing readership

The small-wind power market is expected to increase massively, from US$ 609 million in 2012 to US$ 3 billion by 2020, at a Compound Annual Growth Rate (CAGR) of 22%, says research and consulting firm ...Windtech International - Windtech International is the worldwide information magazine for the wind energy industry. It provides the ideal forum for the promotion and explanation of new products, techniques and applications. This trusted and well-respected source of information is read regularly by an increasing readership

With wind energy capacity growing at a rapid pace, the value of the operations and maintenance (O&M) market is expected to increase from US$ 3 billion in 2008 to US$ 19 billion by 2020, says research ...Windtech International - Windtech International is the worldwide information magazine for the wind energy industry. It provides the ideal forum for the promotion and explanation of new products, techniques and applications. This trusted and well-respected source of information is read regularly by an increasing readership

The global offshore wind power market is expected to explode over the next decade, states research and consulting firm GlobalData. The company's new report forecasts the global offshore wind power m ...Windtech International - Windtech International is the worldwide information magazine for the wind energy industry. It provides the ideal forum for the promotion and explanation of new products, techniques and applications. This trusted and well-respected source of information is read regularly by an increasing readership

The growing proliferation of offshore wind farms will see a decreasing share of the global wind turbine rotor blade market allotted to onshore installations, says the latest report from international ...Windtech International - Windtech International is the worldwide information magazine for the wind energy industry. It provides the ideal forum for the promotion and explanation of new products, techniques and applications. This trusted and well-respected source of information is read regularly by an increasing readership

Installed wind capacity is set to increase as wind power markets are expected to witness massive growth in multiple regions, following a temporary decline caused by the global recession, a new report ...Windtech International - Windtech International is the worldwide information magazine for the wind energy industry. It provides the ideal forum for the promotion and explanation of new products, techniques and applications. This trusted and well-respected source of information is read regularly by an increasing readership