Published: 25 February 2022

25 February 2022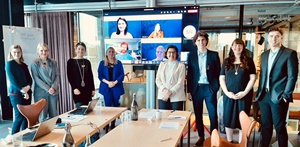 Industry groups from Belgium, Germany, the Netherlands, and the United Kingdom extend the Inn2POWER Interreg Project with a new scope: The group now aims at supporting the ramp-up of a "green" hydrogen supply chain among European SMEs as well as wind energy businesses.
The partners recently started the second phase of the Inn2POWER Project with a kick-off meeting in Copenhagen. Until mid-2023, the consortium will support the development of transnational business cases of SMEs in the wind energy and green hydrogen sectors. The project partners will identify collaboration opportunities and improve access to test and demo facilities - including innovation and transnational business support services.
The second phase of the project builds on the consortium's work of the first phase since 2016, in which the team successfully supported companies in the offshore wind sector to collaborate and enter new markets. The project was awarded "Interreg Project of the Month" by the German Interreg Advisory Network in mid-2021.
The Inn2POWER consortium will now support the identification of gaps and cooperation opportunities of SMEs and will demonstrate how co-developed plans for shared and innovative SME testing and logistic facilities can lead to innovation across the value chain.
SMEs from the wind industry see own business opportunities in the green hydrogen supply chain and will be supported to identify attractive relationships and to exploit and improve their collaboration structure. The insight into knowledge and skills that are available within the clusters will be facilitated by including SME competences in the field of green hydrogen into the web-based match-making tool. In addition, several transnational B2B events will be facilitated for SMEs to identify collaboration opportunities. Inn2POWER partners will support the development of transnational business cases and pilot innovation collaborations of SMEs.

The partners aim at expanding the existing mapping tool, the "address book to the European Offshore Wind Supply Chain", and at developing one integrated platform including data related to the green hydrogen economy. The final database will include information on the green hydrogen supply chain, test facilities as well as innovation, research, and business support organisations.
While green hydrogen has a huge economic potential, its development and its role in the future energy system strongly rely on political and thus public support. The Inn2POWER project partners will therefore help promote the acceptance of "green" hydrogen with a podcast and other publications on the achievements and the potential of the green hydrogen sector.
The Inn2POWER project (https://inn2power.eu) is supported by the European Union's European Regional Development Fund, Interreg North Sea Region Programme.