Published: 31 January 2023

31 January 2023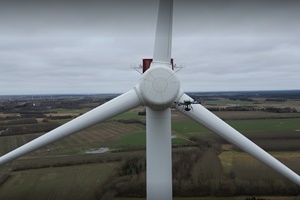 A partner group consisting of Siemens Gamesa, Esvagt, Upteko, and the University of Southern Denmark, under the auspices of Energy Cluster Denmark, is working on automated drone deliveries to offshore wind farms.
In the innovation project Flexible Offshore Drone for Wind (FOD4Wind), downtime, CO2 emissions, and service costs will be reduced by placing drones on the wind farm's wind turbine service vessel – a so-called SOV – and programming the drones to deliver spare parts and tools directly from the ship to the technicians in the mill. Upteko programmes the fully automatic drones, which will take off from Esvagt's ships and carry gear and tools to the offshore wind turbine's nacelle. The project is supported by the Energy Technology Development and Demonstration Program (EUDP) and has a total budget of DKK 17 million. It was previously supported by the EU's Regional Fund. It runs until the end of 2024.