Published: 20 November 2009

20 November 2009
Assessing and Managing the Risk of Wind Farms in the Marine Environment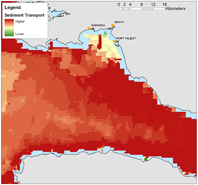 Offshore wind power offers Europe a real chance to benefit from abundant, inexpensive and clean energy while simultaneously reducing our reliance on imported energy, reducing our carbon emissions and potentially creating thousands of jobs. With all these benefits it is hard to understand the reluctance of the energy industry to embrace offshore wind power. Much of this unwillingness could be explained by the perception of the high risk of construction and operation in the marine environment. However, often these risks can be controlled and managed if the correct data and assessment tools are available. This article introduces the development of a Geographic Information System (GIS) based multi-criteria risk model by 4C Offshore that can be used by planners as an early stage assessment tool for wind turbines, in-field cables and export cables. This article also explores real world examples of problems that wind farms have encountered where multi-criteria modelling could have assisted.
By Willow Outhwaite and Sarah Taigel, 4C Offshore Limited, UK .

Want to read full articles? Sign up free of charge and login and read the full text of published articles on our website.