Published: 20 November 2009

20 November 2009
Pioneering New Levels of Safety for Those Working at Height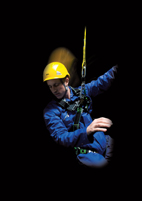 Falls from height remain one of the largest causes of fatalities in industry today, so any technology that helps improve safety is to be welcomed. The Limpet is the world's first fully integrated height safety system, providing all key work-at-height safety functions in one total solution. It has been designed to provide those working at height with all aspects of required safety protection, without the complexity of multiple systems. In this article, Jonathan Watson, Managing Director of Limpet Technology, explains how his company's product can enable users to work safely at heights and also outlines the possible cost-saving implications of an integrated and easy to use system.
By Jonathan Watson, Managing Director, Limpet Technology, UK .

Want to read full articles? Sign up free of charge and login and read the full text of published articles on our website.