Published: 17 February 2010

17 February 2010
How Will Continuously Variable Transmissions Affect Future Wind Turbine Designs?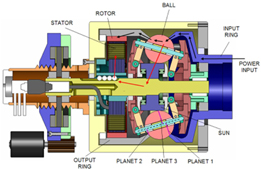 Continuously Variable Transmissions (CVTs) have been used in wind turbine designs for many years. For the most part they have been large, complex designs that could partially decouple the rotor motion from the generator motion to allow the use of simple or doubly fed induction generators. They were a design alternative to using variable speed alternators whose AC frequency varied with rotational speed, and drove rectifiers to produce DC power that was then converted with an inverter to 50 or 60Hz AC for grid connection. It is possible, however, for a high torque CVT to be used for the entire power path, and that offers some interesting design alternatives and cost savings.
By John Langdon, CEO, Viryd Technologies, USA .

Want to read full articles? Sign up free of charge and login and read the full text of published articles on our website.