Published: 17 February 2010

17 February 2010
How New Methods Developed for Rotorcraft are Making This Possible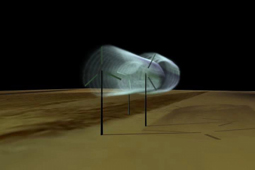 While wind turbines were still using blade designs of the past, with generic, suboptimal shapes that neglected complex terrain and multiple turbine effects, aircraft and rotorcraft computational fluid dynamics (CFD) was already starting to compute and optimise wing design and rotorcraft multiple blade flows. Recently, there has been promising new CFD research that could have a large impact on wind turbine siting and blade design. This article describes some of this research.
By Dr John Steinhoff, Professor at University of Tennessee Space Institute and consultant to Flow Analysis Solutions, Inc., USA .

Want to read full articles? Sign up free of charge and login and read the full text of published articles on our website.